My friend Richard Knight is a bad ass.
He's hiked the entire Appalachian Trail. So since I want to get into solo-hiking more, I asked him if he'd mentor me for the weekend and show me the ropes.
Richard planned a great weekend for us. The 4.5 hour drive wayyy up to the Bigelows in northern Maine was well worth it. The trails were challenging and tiring, but we were rewarded with incredible views and great refreshments on our way home in Portland, ME. The weekend was the perfect mix of relaxing, tough, scary, and encouraging.
A few miles after we started our hike, we stopped at Horns Pond for a break. Richard's trail name is "French Press" and he wears it well. He made us some coffee and took a dip in the lake.

After our break, the trail showed it's true face and went up up up.
But the sweaty climb was well worth it.
But then there was still more up.
Again, well worth it.

We camped at a tentsite in the col between the peak Richard is standing on here above and the one right behind it.
We quickly set up our tent and bivy, dropped most of our stuff, then headed out for another 20 minute steep hike up to nearby Avery Peak for a sunset dinner that left us speechless.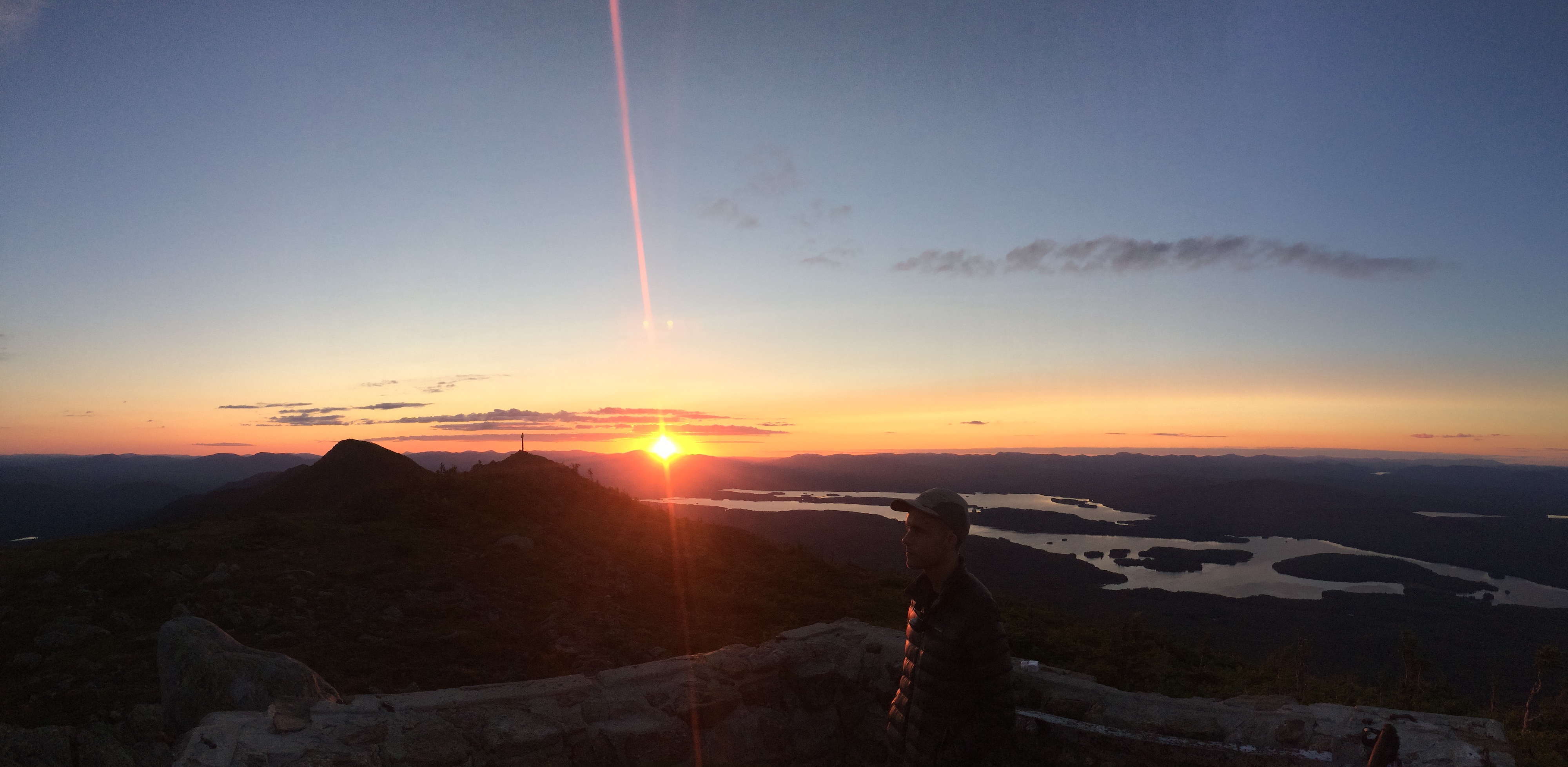 On the way up to Avery, I asked Richard. "Wait. Are we scrambling up this trail, only to come back down it in the dark after a bottle of wine? Is that the plan?"
His response: "Yes… But we can go slow if you need to!"
I think I picked an incredible mentor.
At night it got down to around 40 degrees – pretty chilly! My teeth were chattering as I ate my dinner on Avery Peak but I wouldn't have traded that view for anything! The thing that really struck me about the view was that there were only 3 lights that I could see in any direction. They all came from nearby Sugarloaf Mountain. Other than that, and with a clear view in every direction, it was simply quiet, still, dark green wilderness as far as the eye could see.
The next day was a quick 4 miles back down to the trailhead. We were in the car and heading back to Boston before noon. Of course, we deserved some refreshment along the way… We stopped at Rising Tide Brewery in Portland where there was live music, a food truck serving up delicious pizza, cornhole, and my favorite gose as of late (Pisces by Rising Tide!)
Thank you, Richard, for putting up with me for the weekend! I learned a lot from you!
I learned:
There is no substitute for Deet, as proud of my homemade natural bug spray as I might be.
Logs of pepperoni and chunks of cheese work just fine for dinner. No need for fancy backpacking meals.
Always have a back-up water purification method.
There is always time for a dip or a cup of coffee, or both.
You taught me how to take my time along the trail, how to find water and not drink too many bugs, and how to keep critters from eating holes in my pack. Thank you!